Quantum Space Engineering and the Space Quantum Internet
UPDATE 2022-08-19: The INSQT WS1 organisers would like to thank all those who participated in the event, either in-person or online, making it a tremendous success. We hope that it was both productive and enjoyable, especially for those who were able to travel to Glasgow. We have been "catching our breath" since the end of the workshop but will try to process the recorded talks and post those with permission soon. Our attention now turns to maintaining the momentum garnered through WS1, especially with Research Exchanges and the next set of workshops (WS2/3 and mini). We will also endeavour to progress with the onboarding process of new members.
The INSQT is pleased to announce that the 1st INSQT Workshop will be held on Wednesday 3rd to Friday 5th August 2022 on the 9th floor of the Technology Innovation Centre, University of Strathclyde, Glasgow, UK.
The 1st Workshop will identify key topics or challenges, stimulate cross-community interaction, and facilitate future research exchanges between INSQT members. Attendance will be free. There will be some funding available to support travel costs of INSQT members; you may indicate in your application if you would like to apply for funding.
Workshop Structure
PDF Schedule (2022-08-03 11:11)
2022-08-03 Change: Wednesday afternoon swapped around 14:00 and 14:30 talks
Abstracts
Titles and abstracts of talks and posters are available to view here. This page will be continually updated.
Key Times and Locations
The main workshop will be held on the 9th floor of the Technology and Innovation Centre from August 3rd – 5th
University of Strathclyde

Technology and Innovation Centre

99 George Street

Glasgow

G1 1RD
The Workshop Reception will be held at Glasgow City Chambers, from 18:00 – 19:00 on August 3rd, 2022
City Chambers

Glasgow G2 1DU
The Workshop Dinner will be held at Merchants House, from 19:00 – 21:45 on August 4th, 2022
Merchants House

7 West George Street

Glasgow

G2 1BA
We recommend you take the Glasgow Airport Express Service 500 Bus to access the Technology and Innovation Center and your accommodation from Glasgow Airport. Getting off at the North Hannover Street Stop will let you off just next to Queen Street Station, within close walking distance.
Otherwise, here is additional advice on reaching your destination.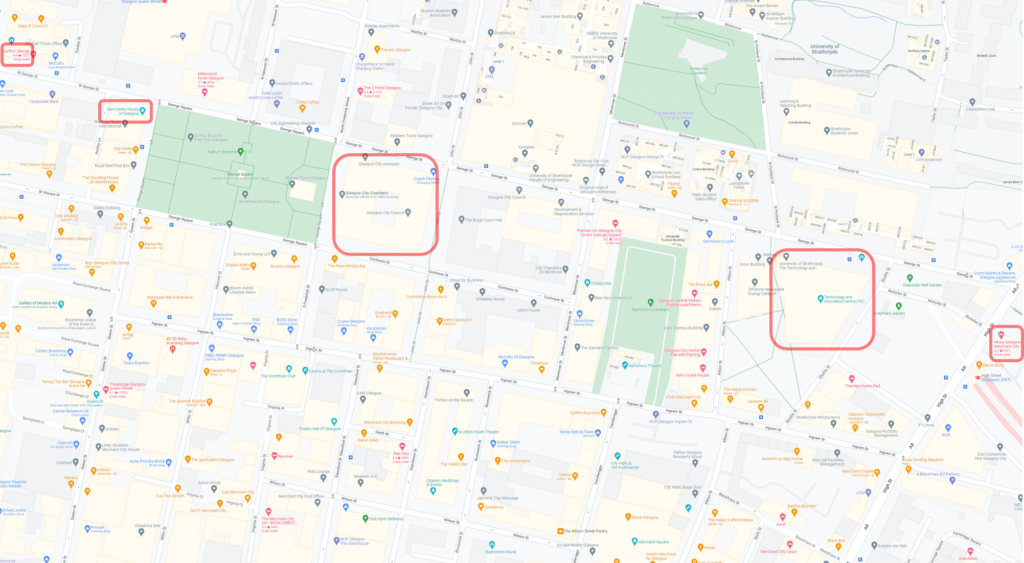 Accommodation and Funding
All attendees approved for funding will have received their official funding letters; please refer to these and reach out with any questions or concerns.
Accommodation is within walking distance of the Workshop Location; you will have received details of this. All (non-local) registered in-person attendees are provided with accommodation for the duration of the workshop, including the preceding night.
Poster Session
The poster session will take place on the afternoon of August 4th, on the 3rd floor mezzanine of the Technology and Innovation Centre. We still have availability, and encourage you to bring a poster! We are happy to print these for you to save the time, hassle and expense. Please email Katrina.Salamon@strath.ac.uk with your attached poster and a title and abstract!
We will also run a simultaneous virtual poster session using Gather.Town; details will be provided in due course.
Workshop FAQ's
Q: What size poster should I bring?
A: Our displays are standard A0 portrait, or A1 landscape. We are also happy to print these for you here; if you would like us to do this for you please get in touch at Katrina.Salamon@strath.ac.uk as soon as possible.
Q: I can't make it in person; are there other options?
A: You are welcome to attend the workshop remotely! Please register your interest by filling out this form. We will send you remote access details in due course. If you cannot attend remotely, we intend to record the workshop and make this available, as well.
Q: Can I attend for just one day/particular session?
A: Yes! You are welcome to attend in whatever capacity your availability allows.
Q: Visa Information?
A: Before attending, please ensure that you consult the guidance on entering the U.K. based on your home location. Use this tool to check if you need a visa to attend the Workshop.
If you require a letter of invitation, please let us know as soon as possible via email at physics-insqt@strath.ac.uk.
Q: Where can I keep my luggage before checking in or after checking out of accommodation?
A: We will have the entire 9th floor reserved; there is a sectioned off check-in desk, behind which you are welcome to store your luggage before you check in or after you check out of accommodation.
Q: What procedures and Policies apply regarding COVID-19?
Our COVID-19 guidance can be found here.
Q: Will the talks be recorded?
Subject to speaker agreement, the talks will be recorded and made available for INSQT Members or Public viewing.
Enjoy Glasgow While You're Here!
Glasgow is known as the friendliest city in the world — we encourage you to enjoy it while you're here! We've made a wee guide of fun food and drinks that we encourage you to enjoy in your spare time!
Take a stroll around these can't-miss landmarks that make Glasgow so unique, and enjoy the fun activities, eateries and entertainment that sit just outside our doorstep here at the University of Strathclyde.
Given the nature of the INSQT's main mission of encouraging networking and collaboration, we encourage you to arrive early or stay on late; we are very keen to get the most out of our time together, and for you to get the most of your time in Glasgow. We will be very happy to welcome you to our department, make introductions to local organisations, etc., and would even be happy to organise supplementary sessions before or after the main event. We are open to suggestions on this and welcome your ideas and input.